A level threshold to the outside
Barrier-free building shows foresight. All the barrier-free units in your home allow for the living space to be used independently – largely without any help. Schüco offers the right solutions for this. In addition to flat and zero-level threshold solutions, this also includes the Schüco AWS window system platform with innovative further developments. For window doors with large opening widths that are very easy to use.
For today. For tomorrow. For buildings with a bright future.
Schüco windows make it possible not only to easily realise the many advantages of barrier-free constructions, but also to fulfil the DIN standard relating to accessible buildings without difficulty. The DIN 18040-2 standard (Construction of accessible buildings) applies to barrier-free planning, execution and equipment of flats, buildings with flats and their outdoor areas, which are intended for home-related use. In other words, living spaces in which people should feel comfortable.
Barrier-free patio doors from Schüco are easy to open and close, and safe to pass through. Creating a barrier-free transition between the inside and outside includes having sufficient space to move in front of the door and stepless access. To ensure unrestricted wheelchair use, a clear opening dimension (clear width) of at least 900 mm is required; if this is not required, then the dimension is 800 mm. In addition, the clearance height (clear height) must be at least 2050 mm in accordance with DIN 18040-2. The barrier-free window doors easily fulfil these parameters with a width of 1300 mm and a maximum height of 2500 mm. Schüco window doors made from aluminium or PVC-U also boast a zero-level threshold without a tripping hazard, ensuring a seamless transition onto your patio or balcony.
Zero-level threshold
Innovative ease of access
The Schüco AWS barrier-free window construction allows for a seamless transition from inside to outside. The window system has different opening types, is easy to use and has a zero-level threshold, thereby meeting all of the requirements in terms of comfort and design.
20 mm threshold
An effortless, flat solution
Integrating a particularly flat threshold into the Schüco window systems provides greater ease of use in comparison to conventional thresholds. The low construction height of 20 mm fulfils the requirements of barrier-free building. Additional benefits include the concealed fixing system and the kick plate.
Trouble-free living thanks to ease of access
Creating an easy-access building makes the living space very comfortable and convenient. This benefits not only people with limited mobility, but also the elderly and families with children.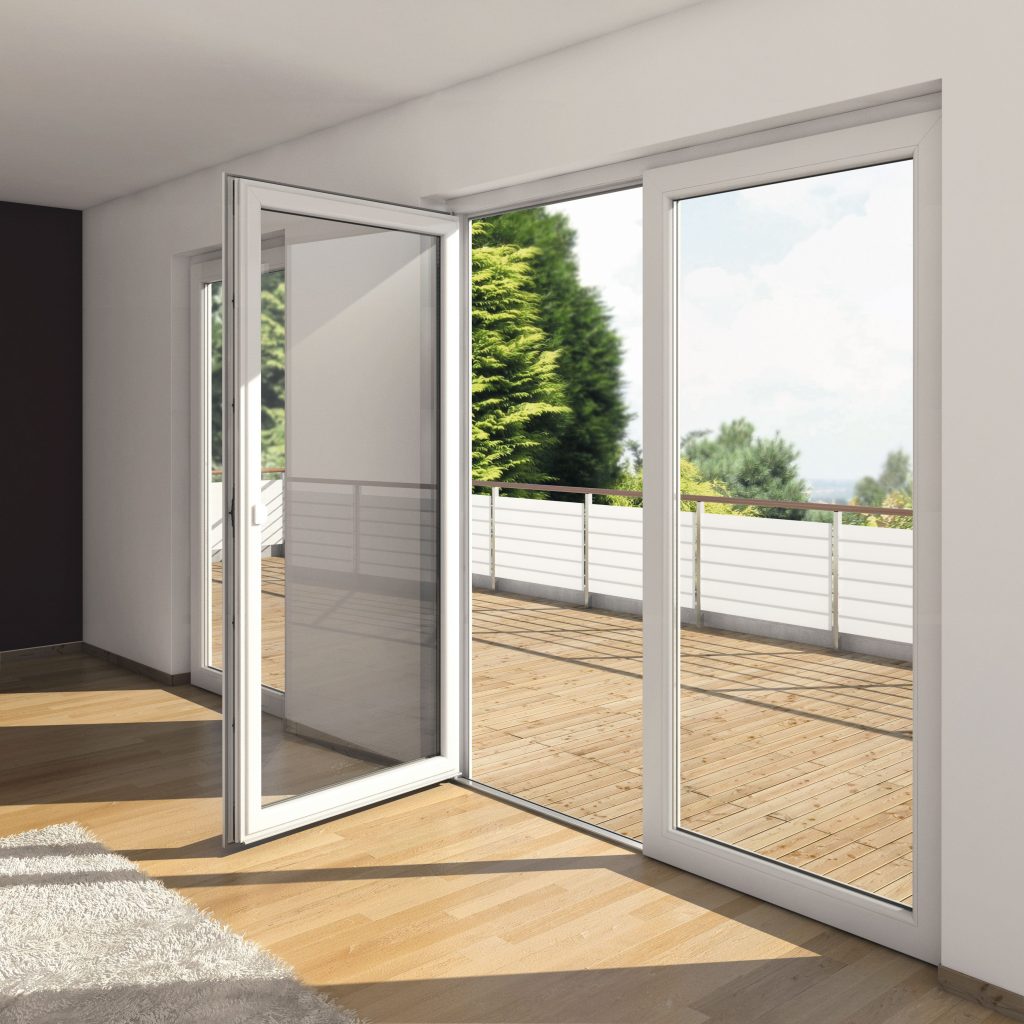 Barrier-free aluminium patio doors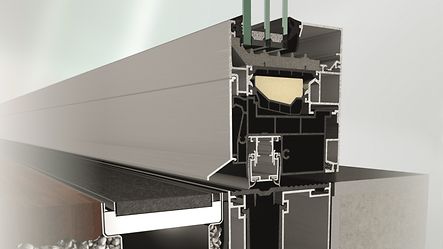 Schüco AWS 90.SI+
The Schüco window systems with a basic depth of 90 mm combine the benefits of aluminium with maximum thermal insulation for design-oriented, sustainable architecture.
Unique thermal insulation: Uf value = 0.71 W/(m2K)
Burglar resistance to RC 2
Minimal face width of 99 mm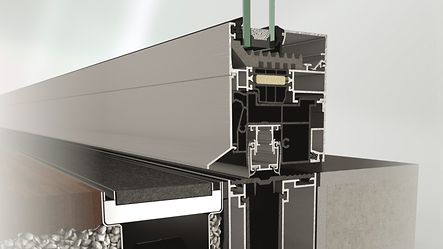 Schüco AWS 75.SI+
Schüco AWS 75.SI is a highly thermally insulated aluminium window with a comprehensive range of solutions. It is part of the Schüco AWS modular system for the basic depth of 75 mm and impresses in terms of function, energy efficiency and design.
Unique thermal insulation: Uf value = 0.92 W/(m2K)
Burglar resistance to RC 2
Minimal face width of 91 mm
Barrier-free PVC-U patio doors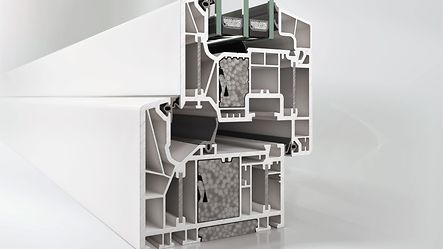 Schüco LivIng Alu Inside – The perfect solution for saving energy
The use of unique aluminium profile rolling technology makes Schüco LivIng Alu Inside a steel-free profile system with outstanding thermal insulation. One decisive advantage of the maximum insulation PVC-U system is the material on the inside of the profile system – a high-quality aluminium alloy. The polished surface reflects a large percentage of the thermal radiation.
Window system to passive house level for Uf values as low as 0.79 W/(m²K)
Centre gasket system with three continuous sealing levels for the best possible protection against wind, rain and the cold
Increased basic depth for added security and burglar resistance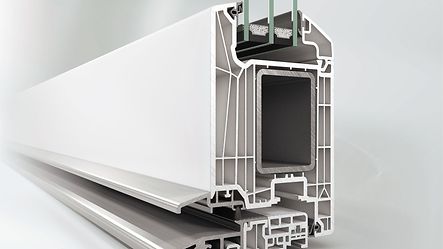 Schüco LivIng – energy-saving patio doors developed for your requirements
Schüco LivIng sets new standards in terms of comfort, security, energy efficiency and design. With a basic depth of 82 mm and thermal insulation values to passive house level, it has all the features that are necessary for pioneering energy-saving window doors. New sealing technology offers effective protection against draughts, moisture and noise – throughout the lifetime of the window. "Made in Germany" quality and burglar resistance to resistance class RC 2.
7-chamber window system with outstanding thermal insulation properties for Uf values as low as 0.96 W/(m²K)
Available with 2 or 3 sealing levels
Multiple design options
The minimum threshold height of 20 mm fulfils the requirements of barrier-free building in accordance with DIN 18040
Schüco CT 70 – the all-rounder among window doors
The PVC-U windows from the Schüco CT 70 series have high thermal insulation and versatile accessories, boasting timeless contours, narrow face widths and highly effective sound reduction. Schüco CT 70 windows are available with two continuous sealing levels.
Good thermal insulation: Uf values from 1.2 to 1.5 W/(m²K)
Design freedom thanks to a choice of two contours (Classic and Rondo)
Wide variety of colour and design options
The minimum threshold height of 20 mm fulfils the requirements of barrier-free building in accordance with DIN 18040
รับเหมาติดตั้ง หน้าต่างอลูมิเนียม รับออกแบบและติดตั้งงานกระจกอลูมิเนียมในราคาที่กันเอง
ติดตั้งประตูหน้าต่างกั้นห้องกระจกอลูมิเนียม กระจกกั้นห้องน้ำบานเปลือย
ติดตั้ง กระจก ประตู หน้าต่าง อลูมิเนียม รับประกอบติดตั้งประตูหน้าต่างอลูมิเนียม รับออกแบบติดตั้งกระจกอลูมิเนียม