Excellent thermal insulation, top quality and highly varied design
The entrance door is a key element of every façade. With a new Schüco PVC-U entrance door, your entrance area will become a truly eye-catching feature and highlight the individual character of the building. In addition to aesthetic benefits, PVC-U entrance doors from Schüco offer exceptional burglar resistance and maximum thermal insulation. Your dream door can also be fitted with a wide range of technical accessory components to enhance ease of operation in line with your specific requirements.
Highest quality requirements and a wide variety of benefits
Increased standards in terms of thermal insulation and sound reduction, changing needs and technical progress – today, a new entrance door must do much more than ever before. In order to meet these increasing requirements, Schüco entrance doors can be made from different series. You can therefore be certain that your new entrance door from Schüco will do exactly what you expect it to.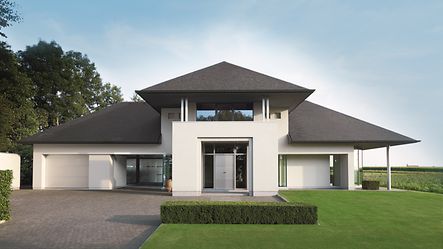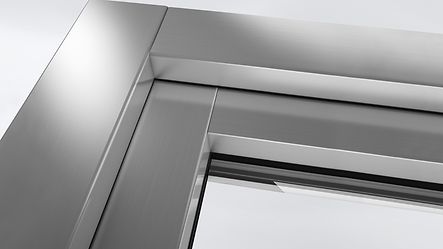 DESIGN
Create individual designs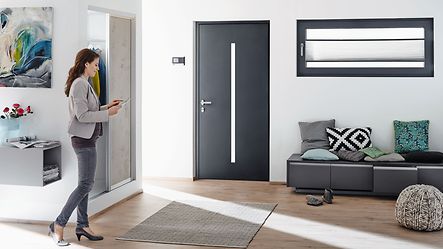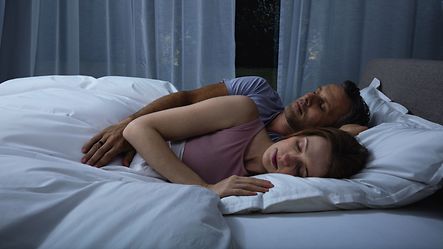 DESIGNCreate individual designsSECURITYFeel secure
PVC-U recycling: a win-win for people and the planet
The wide range of Schüco PVC-U entrance doors allows carbon emissions to be reduced through energy efficiency, and natural resources to be conserved. In addition, high-quality PVC-U has excellent recycling properties. It can be re-used up to seven times. Modern PVC-U doors have a service life of 40 years or more. So it's a good idea if all the individual components of the door (such as the gaskets) last just as long, as they are crucial to ensuring the door remains fully functional. With Schüco, you get the highest quality down to the very last detail: Schüco PVC-U entrance doors are exclusively fitted with the latest sealing technology. EPDM is a top-class sealing material and its excellent material properties mean it is used in many fields, such as medicine, the aerospace industry and the automotive industry. For you, there is one key benefit: an extremely comfortable living environment with lasting peace of mind. For the high-quality gaskets made from EPDM rubber keep your home protected against draughts, noise, moisture and cold for decades.
For durable entrance doors and sustainable building
There are plenty of good reasons to choose Schüco PVC-U entrance doors and one is the impressive quality of Schüco products. Schüco entrance doors are therefore particularly durable and remain fully functional for many years.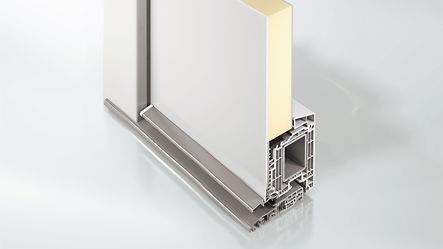 Schüco LivIng – entrance doors developed to meet your requirements
Schüco LivIng sets new standards in terms of comfort, security, energy efficiency and design. With a basic depth of 82 mm and excellent thermal insulation values, it has all the features that are necessary for pioneering energy-saving doors. New sealing technology offers effective protection against draughts, moisture and noise – throughout the lifetime of the entrance door. "Made in Germany" quality and burglar resistance to resistance class RC 2.
Thermal insulation with a Uf value of 1.4 W/(m2K)
Protection against wind and weather through two sealing levels
Easy-access design
Multiple design options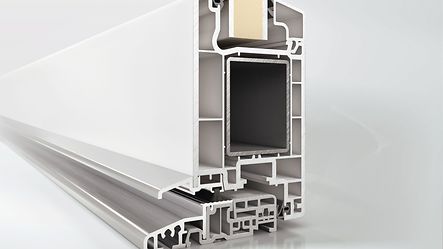 Schüco CT 70 – the all-rounder among door systems
Schüco CT 70 doors are suitable for a wide variety of uses in both newbuild and renovation projects. An extensive range of accessories ensures a high level of system security. The proven multi-chamber profile and thermal break of the door threshold guarantee a high level of thermal insulation and thereby offer considerable energy-saving potential.
Excellent thermal insulation with a Uf value of 1.1 W/(m2K)
Easily integrated comfort and security functions
Easy-access design
A variety of colour and design options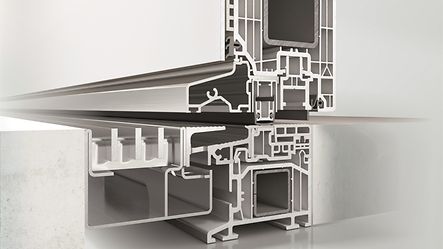 0 mm door threshold for Schüco LivIng
With the level 0 mm threshold, which was specifically developed for the Schüco LivIng product range, even the smallest tripping hazards are a thing of the past.
Maximum accessibility in accordance with DIN 18040 for Schüco LivIng entrance and side entrance doors (inward-opening)
Specially developed threshold gaskets made from high-quality silicone guarantee optimum weathertightness in the threshold area
Optimum thermal insulation: the level 0 mm threshold is thermally broken to reliably prevent heat losses
Can be used with all standard drainage systems
Can be combined with leaf-enclosing door infills and aluminium cover caps from the Schüco TopAlu series, which offers a range of design options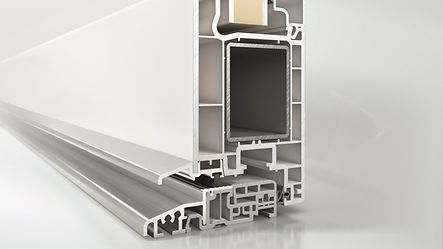 20 mm door threshold for Schüco LivIng and Schüco CT 70
The 20 mm door threshold is made from an innovative plastic/aluminium composite and is compatible with the Schüco LivIng and Schüco CT 70 PVC-U door systems.
Fulfils the requirements of barrier-free building in accordance with DIN 18040 thanks to the low construction height of 20 mm
Maximum thermal insulation and particularly high weathertightness despite the low construction height
Attractive appearance: the 20 mm door threshold is available in aluminium black/black anodised and aluminium anodised/grey. The kick plate is available in the coordinated colours of black and grey.
Fully concealed fixing
Suitable for inward-opening and outward-opening, face-fitted front and side entrance doors, as well as balcony doors
Schüco works with an extensive partner network. Our Schüco partners will support you with your individual building project., from the consultation and quotation phase through to fabrication and installation of your Schüco products. Find the ideal Schüco partner in your area for your  building project!