Fully automatic fresh air
Why is ventilation so important?
Building ventilation is about more than just circulating air. It also supports long-term protection of the building to retain the property's value and ensure efficient use of energy. Above all, it is about your health and wellbeing.
Product highlight: Schüco VentoTherm Twist
Window-integrated ventilation with incoming air, outgoing air and heat recovery
Developed in partnership with Renson©, the multifunctional Schüco VentoTherm Twist system automatically provides rooms with fresh air. Intelligent sensors immediately detect room conditions so that a climate which is beneficial to your wellbeing is guaranteed, not to mention the improved energy efficiency. 
Constant air circulation is good for your health. In order for it to simultaneously conserve energy, Schüco VentoTherm has a heat recovery level of up to 80%. Heat losses can be significantly reduced in comparison to normal ventilation – a significant saving which has a positive effect on the energy performance certificate.

An F7 external air filter guarantees protection against draughts, insects and pollen, so it is not just allergy sufferers who can breathe easy. When it comes to sound reduction as well, the system makes sure that what happens outside, stays outside.

Optimal sensor control regulates room temperature, as Schüco VentoTherm Twist automatically reacts to the current room conditions.
Clean air should be felt, not seen
A healthy indoor climate is one of the most important factors for personal wellbeing in humans. Regular and sufficient ventilation is therefore very important, and the quality of the air coming from outside plays a central role. The integrated solutions from Schüco have an outstanding visual appeal.
Overview of decentralised ventilation solutions
Customisation, long life cycle and easy integration are just a few of the benefits which set the decentralised ventilation solutions from Schüco apart. With deliberate installation in individual rooms, the systems can be used to implement a custom ventilation concept which will let you breathe easy for years to come.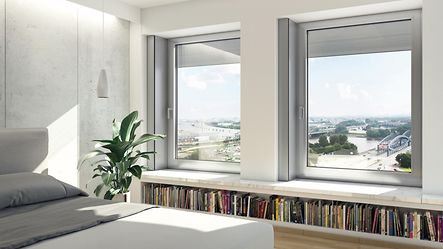 Schüco VentoTherm Twist
Developed in partnership with Renson©, the Schüco VentoTherm Twist window-integrated ventilation system directs cold outside air past warm used air and thus ensures efficient heat recovery.
A controlled exchange of air for the highest energy efficiency requirements: a heat recovery rate of 80% ensures a high degree of energy is saved
Schüco VentoAir
Discreetly integrated in the window rebate, the mechanical ventilator flap uses the principles of differential pressure to allow fresh air to flow in, ensuring residential buildings are sufficiently dehumidified.
Controlled air exchange independent of the user avoids high energy costs
Integrated in the window rebate: not visible from inside or outside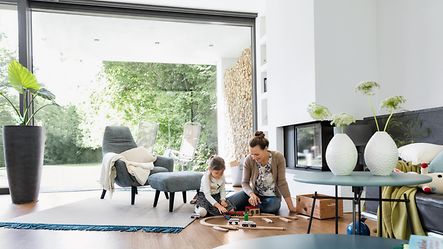 Schüco VentoFrame
The flexibly adjustable Schüco VentoFrame window ventilator fits into the outer frame and controls the exchange of air using either cross ventilation or an extraction system.
Controlled air exchange independent of the user avoids moisture damage
Integrated in the outer frame of the window: no interference with the building structure required, e.g. openings through walls
Air supply can be manually regulated with 4 settings
Schüco VentoLife
With VentoLife, Schüco offers a ventilation solution in its product range that has been specifically developed to meet the needs of residents in large cities and urban areas. A multi-stage, high-performance filter effectively removes the smallest particulate matter, pollen and substances that are harmful to health, thereby ensuring optimum air quality in the building.
Automatic, sensor-controlled operation for optimum ambient air quality
Auto-silent mode and dimmed display for a restful sleep while air is being purified
Fresh air supply, even when the window is closed