Fabrication benefits
simple profile geometry for easy joining
extensive range of rebate bolted hinges
variable profile extensions
Completely CE-approved system according to DIN EN 14351-1
flexible application possibilities due to system compatibility
Technical information
System basic depth50 mm
Uf value of frame (≥)5.1 W/(m²·K)
Max. height2500 mm
Max. width2440 mm
Max. glass/panel thickness27 mm
Area of applicationInternal use, Residential projects, Residential projects, Commercial projects, Doors
Surface finishesRAL, Powder, Paint
Air permeabilityClass 4
WatertightnessClass 5A
Wind load resistanceClass C5
Ud value of door (≥)2.6 W/(m²·K)
Max. vent weight230 kg
Min.-max. height1915…2500 mm
Min.-max. width530…2440 mm
Max. clear opening dimension (w x h)2400 x 2500 mm
Min. clear opening dimension (w x h)490 x 1900 mm
Min. face width105 mm
Min.-max. glass/panel thickness5…27 mm
Barrier-free (≤) 20 mmYes
Zero-level thresholdYes
Thick door leaf50 mm
Type of designSingle-vent, Double-vent, Single-vent with toplight and side section, Double-vent with toplight and side section
Vent optionFlush-fitted, Insert panel infill, Swing door, Anti-finger-trap door, Finger-trap protection
Infill typeInsert panel infill, Door infill, leaf-enclosing on two sides
Door thresholdAutomatic door gasket, Flat door threshold, Easy-access door threshold
Special applicationsAnti-finger-trap door, Sheet metal clad door, Swing door
Fitting materialSteel, Stainless steel
Concealed fittings systemYes
Neutral-colour fittingYes
Fittings installationSurface-mounted door hinge, Concealed door hinge, Barrel hinge
Electric strikesYes
With panic functionYes
Finger-trap protectionYes
Opening typeInward and outward, Single and double-vent
DIN directionDIN LH / RH
Door swingFlush-fitted
Mechanical strengthClass 4
Proof of durability200,000 cycles in accordance with DIN EN 12400
Max. sound reduction Rwp44 dB(A)
Top / bottom door closersYes
Door closer typeTop closers, Floor springs
CertificatesEPD
CE markingYes
Documentation
Specification texts
Economy 50 door
Bullet-resistant M3SA test certificate no. DSM 97334
Steel profile system for doors and partition walls with 50 mm basic depth, for indoor components and components without thermal insulation requirements.
In the case of door units with bullet-resistant requirements, the fabrication instructions from the system provider must be observed.
Design features:
All corner and T-joints are securely welded together.
Glass and/or infills of 4 mm to 35 mm can be used.
Door leaves flush-fitted inside and outside with a 5 mm shadow gap on all sides.
Double, continuous rebate weatherstrip on three sides. Transition to automatic floor seal without using special seals.
A glazing bead is used on one side of the glazing.
Glazing bead: ???
The infill is sealed in using double-sided tape and sealing is by means of permanently elastic sealing compound.
Profile depths:
Outer frame, mullion, transom 50 mm
Leaf frame (door) 50 mm
Profile face widths:
Outer frame (door) 88 mm
Z trim (door) 43 mm
Outer frame (glazing) 90 mm
Sill rail profile (glazing) 90 mm
Mullion 80 mm
Transom 80 mm
Leaf frame (door) 63 mm
Sill rail profile (door) 90 mm
CAD data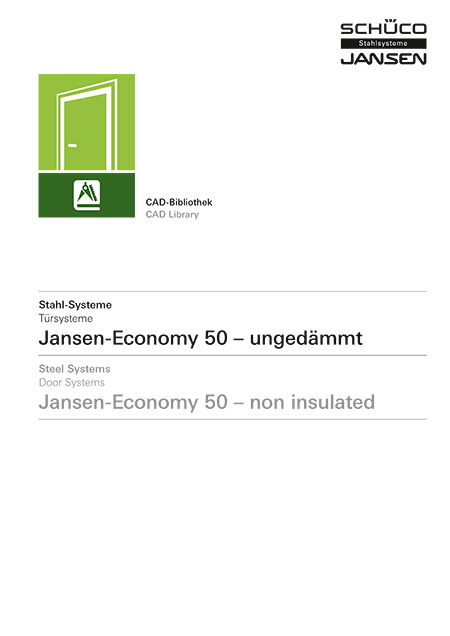 Jansen-Economy 50 doors – non insulated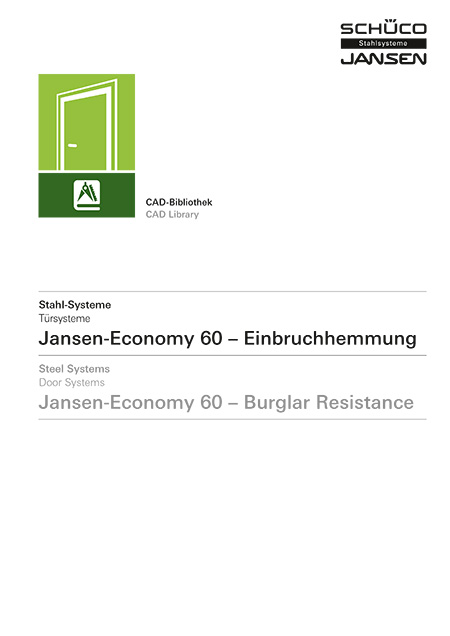 Jansen-Economy 60 doors – Burglar resistance
Brochures