Fabrication benefits
Small construction heights: basic profiles 6 mm, vent profiles 64 mm
Large range of profiles and glazing beads offer design flexibility
Acid-resistant, high grade stainless steel
Choice of sheet metal or highly polished surface finishes
Optional burglar and bullet resistance
Comprehensive range of fittings
Good thermal insulation
Technical information
System basic depth60 mm
Min. face width82.5 mm
Uf value of frame (≥)2.1 W/(m²·K)
Max. glass/panel thickness47 mm
Max. vent width1475 mm
Max. vent height2300 mm
Max. sound reduction Rwp46 dB(A)
Air permeabilityClass 4
WatertightnessClass 9A
Burglar resistanceUp to RC3
Wind load resistanceC5/B5
CE markingYes
Total basic depth60 mm
Width of vent frame64 mm
Max. vent weight180 kg
Min.-max. vent height575…2300 mm
Min.-max. vent width370…1475 mm
Outer frame face width47 mm
Vent frame face width82 mm
Max. face width of mullion95 mm
Min.-max. face width of mullion70…95 mm
Max. face width of meeting stile103 mm
Min.-max. face width of meeting stile103…103 mm
Min.-max. glass/panel thickness13…47 mm
Area of applicationExternal use, Residential projects, Residential projects, Commercial projects, Window
Concealed fittings systemYes
Surface finishesStainless steel
Glass compositionTriple glazing
ToplightYes
Operating forcesClass 1
Opening type: manual, inward-openingTurn/tilt, Side-hung, Bottom-hung, Double-vent turn/tilt / side-hung, Double-vent side-hung / side-hung, Toplight, Tilt-before-turn
Opening angle92 °
Corrosion protection class for fittingsClass 4
Uw value of window (≥)1.2 W/(m²·K)
Ug value of glass (≤)0.5 W/(m²·K)
Drainage levels2
Security systemYes
Suitable for safety barrier loadingYes
Electronic monitoringYes
CertificatesEPD
Specification texts
Janisol stainless steel windows
Thermally insulated stainless steel profile system for windows, material 1.4401, with a basic depth of 60 mm
Design features:
All corner and T-joints are securely welded together.
The surface of the profiles is sheet metal, the visible surfaces are polished.
The stainless steel glazing retention beads are supplied in a sheet metal design; the visible surfaces are polished.
The high-quality insulating bar securely joins the half profiles together. It withstands the short-term temperature increases during welding.
Glass and/or infills of 14 mm to 40 mm can be used.
Face-fitted vent frame on the room side rebated by approx. 8.5 mm from the frame edge.
The weatherstrip system consists of a centre weatherstrip inserted continuously in the insulation zone of the window vents and a plastic profile inserted continuously in the frame. A rebate weatherstrip is inserted continuously on the room side. It is not interrupted by recesses for hinges and/or corner pivots.
Continuous thermal insulation level within the entire construction, even in corner and sash bar areas.
The infill is sealed in using double-sided tape and sealing is by means of permanently elastic sealing compound.
Profile depths:
Outer frame, transom, mullion 60 mm
Vent frame (window) 64 mm
Profile face widths:
Outer frame (glazing) 72.5 mm
Mullion 95 mm
Transom 95 mm
Vent frame (window, visible) 35 mm
Double-vent profile (window) 68 mm
CAD data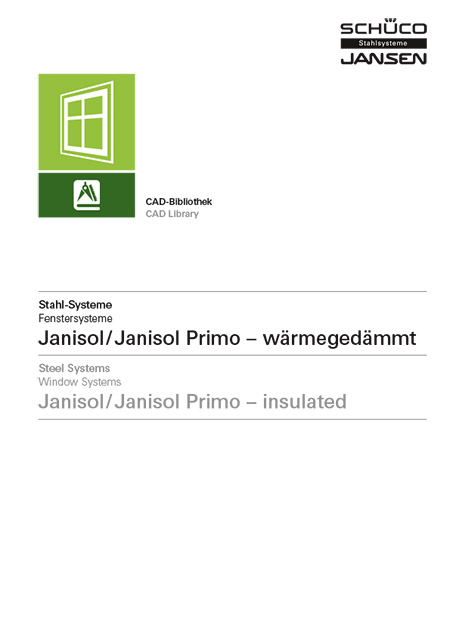 Janisol / Janisol Primo – insulated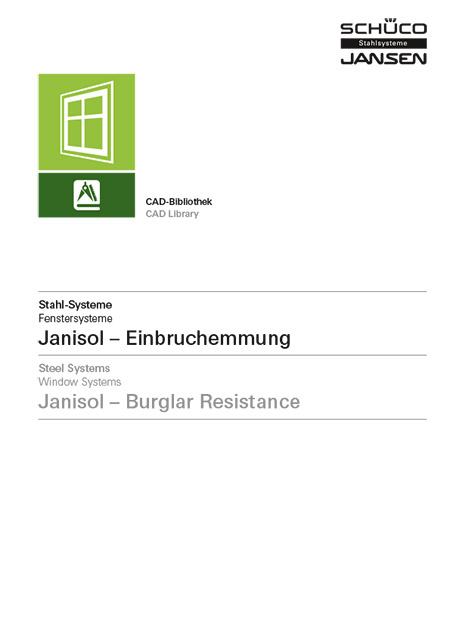 Janisol windows – Burglar Resistance
Brochures