FABRICATION BENEFITS
Design series with angled external contours with the appearance of old-fashioned steel windows
Angled contoured glazing beads allow for same appearance both inside and outside
Improved thermal insulation at basic depth of 7 mm
Compatible with the profile range for the standard Schüco AWS 7.HI series
Compatible with the Schüco ADS door range
GALLERY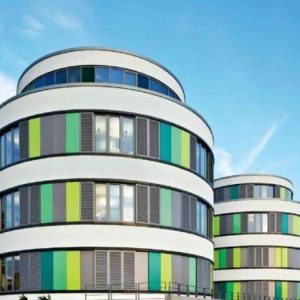 TECHNICAL INFORMATION
ENERGY

Highly thermally insulated
FUNCTIONS

Decentralised ventilation
Increased security
Easy operation
Max. glass/panel thickness
Opening type: manual, inward-opening

Turn/tilt
Side-hung
Bottom-hung
Tilt-before-turn
Min.-max. glass/panel thickness
SPECIFICATION TEXTS/PREVIEW SPECIFICATION
AWS 70 ST.HI, narrow, highly thermally insulated aluminium window system
With 70 mm basic depth.
Design features:
With angular profile geometry inside and outside.
Face-fitted vent frame on the room side rebated by 10 mm from the frame edge.
The external glazing rebates and the internal glazing beads are angle profiles.
The high-volume hollow chamber profile centre gasket is located in the area of the insulation zone.
The system must be fitted with square glazing beads.
The glazing beads are installed with plastic clips to compensate tolerances.
For increased thermal insulation, glazing gaskets with fins must be used.
Profile basic depths:
Outer frame, mullion, transom 70 mm
Vent frame 80 mm
Profile face widths:
Outer frame, bottom 76 mm
Outer frame, side and top 51 mm
Mullion 76 mm
Transom 76 mm
Vent frame (window) 25 mm
Double-vent profile (window) 52 mm
CAD DATA
Vent with outer frame 51 mm face width

Vent with outer frame 59 mm face width

Vent with outer frame 69 mm face width

Fixed glazing with outer frame 51 mm face width

Fixed glazing with outer frame 59 mm face width

Fixed glazing with outer frame 69 mm face width