REFERENCE PROJECT Villa Melstokke
Spectacular locations in the countryside have long fascinated clients and architects throughout history. One of the most famous examples is Fallingwater house by Frank Lloyd Wright from the 1930s. The house is built on different platforms over a waterfall and uses the existing rocks as walls and to separate the rooms. The owners therefore live with the waterfall instead of just looking at it. From living in the treetops or having a view of the Northern Lights; a house on the beach or a Tiny House on Wheels – anything is possible.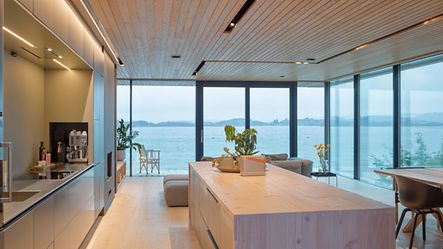 The owners of Villa Melstokke found a very special location for their home, where they can experience the wonders of nature – sometimes serene, sometimes wild. The south-west coast of Norway is notorious for its heavy rainfall. The plot of land belonging to Villa Melstokke in southern Norway is punctuated by trees, heathland and rocks. But when the sun does shine, it enchants both people and nature – even through to the early hours in summer. For the construction of Villa Melstokke, it was therefore particularly important to the owners for the house to face the sun all day long. Supported on a steel base, the house appears almost weightless in the surrounding landscape. This was made possible through the special design of the building. A V-shaped base made from steel elevates the house up towards the light. Two terraces lead out from the kitchen; one for the morning sun and one for the evening. Angled walls provide protection from the wind, while elegant sliding doors enable a view of nature's miracles from the comfort of the interior. Watching a storm in the fjord is better than any crime drama!
Design with perspective
Highly thermally insulated sliding doors made from aluminium and PVC-U create transparent barriers to the outside, while non-insulated sliding doors are used on the inside. Our products can be combined seamlessly with one another for total freedom when it comes to form, function, colour and technology. Sliding doors for generous openings; lift-and-slide doors for complete weathertightness; bi-fold doors as amazing space savers and tilt/slide doors as a combination of a sliding door and a window – the choice is yours!
For more information about the Schüco sliding products, visit winincomedesign.com/sliding-doors