Schuco entrance doors – design freedom for the highest quality standards.
The front door doesn't just provide direct access to the inside of a home, it also gives a first glimpse of the inhabitants' character. Schüco entrance doors combine numerous, timeless designs with the highest degree of security, thermal insulation, weathertightness and durability. This means there are virtually no limits to creativity – even large-scale doors are feasible.
Highlight: Schüco Design Edition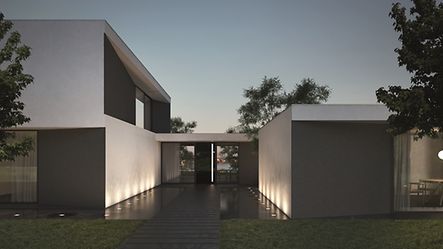 An entrance door for the most demanding requirements in form and function
The Schüco Design Edition entrance door incorporates the most demanding aesthetic requirements with an illuminated flush pull grip integrated in the door leaf profile as a design highlight. The flush pull grip melds seamlessly into the standard profile geometry of the door and together with the leaf-enclosing infill offers a flush-fitted appearance, which is of course combined with outstanding thermal insulation properties and stability.
The indirect, energy-saving LED illumination harmoniously accentuates and emphasises the handle's discreet design.
Individual design options for your entrance door
A visually perfect door design is created by combining coordinated door frames, leaf frames and door infills. However you want to express yourself, your Schüco partner has a comprehensive range of door infills and colour design options for you.
Toplights and sidelights – the structural design of your entrance door
When planning an entrance door, you have to be aware of dimensions and proportions. A high-quality door leaf should be the centrepiece of the door, and by extension your home. The door should match the character of the house – classic or modern? Should you add a dash of colour? How will you control access? From a normal profile cylinder lock to access control via your smartphone – the possibilities are endless.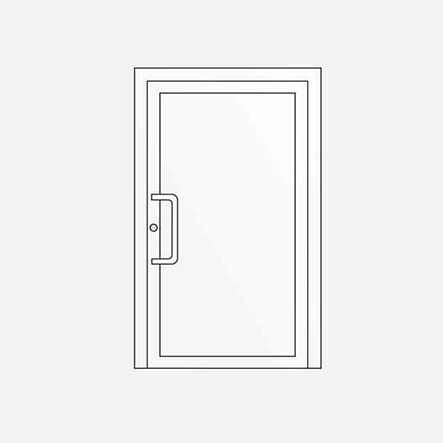 Single-leaf entrance door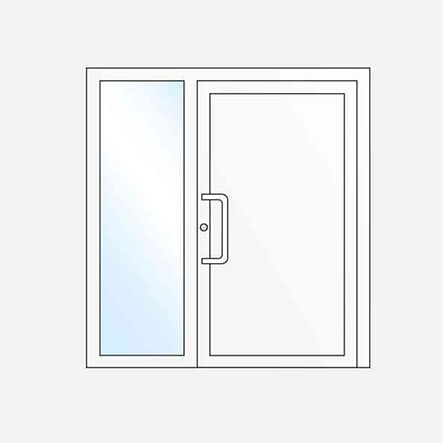 Single leaf entrance door with sidelight, left or right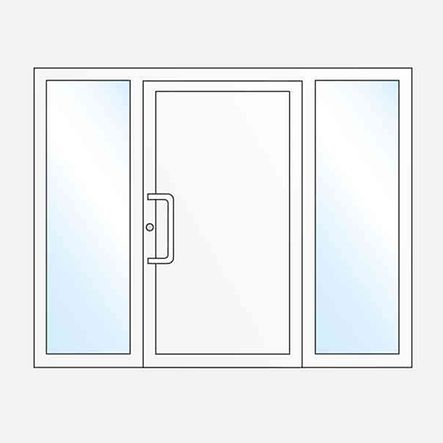 Single-leaf entrance door with two sidelights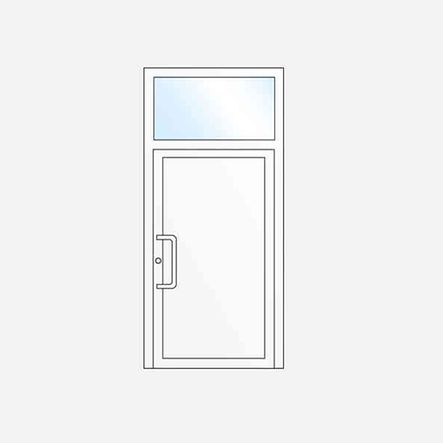 Single-leaf entrance door with toplight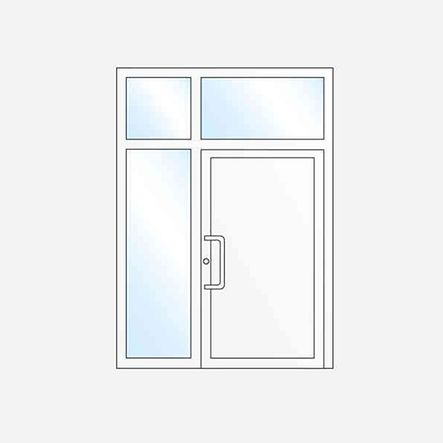 Single-leaf entrance door with sidelight and toplight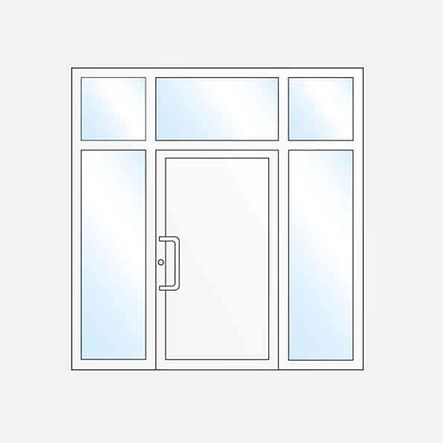 Single-leaf entrance door with two sidelights and toplight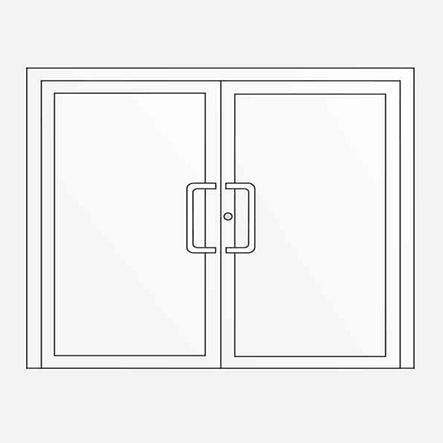 Double-leaf entrance door, can also be constructed with sidelights and toplight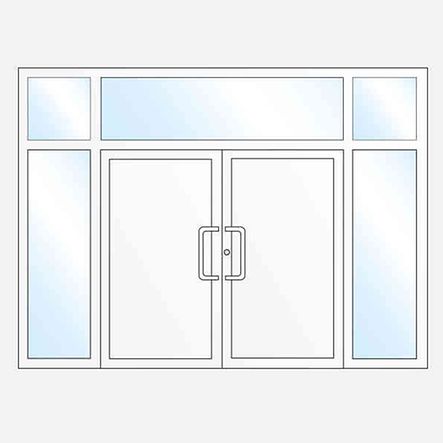 Double-leaf entryway with sidelights and toplightExample options
Door infills – the design of the door leaf
The door infill, integrated in the frame of the active door leaf, is the most important styling element for giving your dream door a distinctive design thanks to the variety of colours and shapes. Your local Schüco partner has a comprehensive range of door infills waiting for you.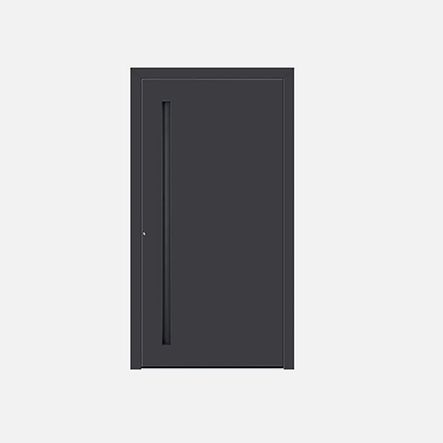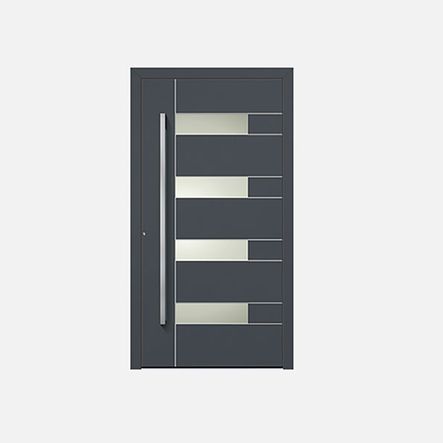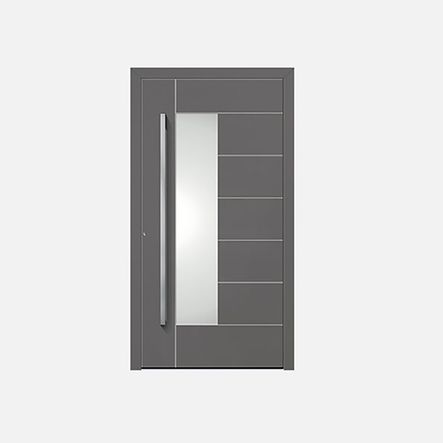 Metris door infillExample options
Burglar protection – simply shut out dangers
Schüco entrance doors offer state-of-the-art locking systems and a variety of fittings options to individually customise your entrance door to your own personal security needs. Special security fittings kits also allow you to increase the burglar resistance of your entrance door to resistance class 3 (RC 3), protecting your home from unauthorised entry. How well your door is protected against attempted break-ins depends crucially on the type of locking and the number of locking points. The more locking points, the harder it is to break through the entrance door.
Entrance doors can be fitted with various locks – a swing bolt or latch lock. A self-locking mechanical lock provides added security. The locking points anchor themselves automatically in the door frame as soon as the door closes, without needing to turn a key.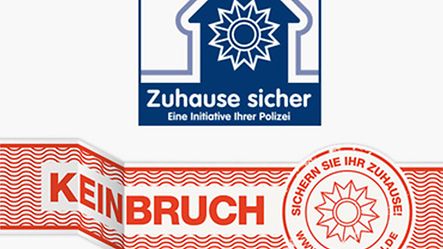 Networked for your safety
As a partner in the "Keinbruch" and "Zuhause sicher" security awareness networks, Schüco champions security within your own four walls. Together with the police and partners from industry, commerce, local authorities and the insurance sector, Schüco is developing new security solutions which can be integrated in windows, doors and sliding doors.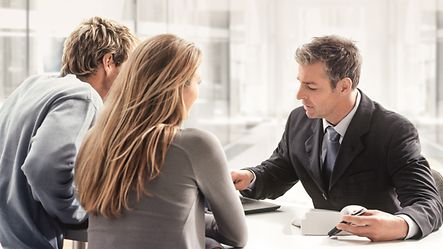 KfW funding
The KfW (Credit Institute for Redevelopment) will support the renovation and modernisation of an old entrance door with a grant or low-interest loan. So when choosing an entrance door, the thermal insulation (funding programme No. 430 "Energy-efficient renovation") as well as the burglar resistance and security (funding programme No. 455 "age-appropriate conversions") are key.
Improve energy efficiency
Increase living comfort
Protect against break ins
Materials – entrance doors for your own personal requirements
ALUMINIUM | Perfectly formed, versatile, distinctive : FIND OUT MORE
PVC-U | High thermal insulation : FIND OUT MORE
บริษัท วิน อินคัม จำกัด WIN-INCOME CO.,LTD.
รับเหมาติดตั้ง หน้าต่างอลูมิเนียม รับออกแบบและติดตั้งงานกระจกอลูมิเนียมในราคาที่กันเอง
ติดตั้งประตูหน้าต่างกั้นห้องกระจกอลูมิเนียม กระจกกั้นห้องน้ำบานเปลือย ติดตั้ง กระจก ประตู หน้าต่าง อลูมิเนียมทุกชนิด รับประกอบติดตั้งประตูหน้าต่างอลูมิเนียม รับประกอบติดตั้งหน้าต่างอลูมิเนียม