Villa Mölnlycke
Living in harmony with the environment rather than fighting against it is a growing trend. The responsible use of resources and a minimal ecological footprint are also part of this. Living in nature is not just about integrating into the surrounding area, but also becoming a part of it, experiencing it with all the senses.
But that doesn't have to mean retreating into the wilderness, as is demonstrated by this family home in Mölnlycke, Sweden. Not far from the centre of Gothenburg and yet surrounded by nature: A Swedish family of four has made their dream home a reality with this villa. The plot is slightly elevated, with a copse of trees to the left and lake Långetjärn to the right. From the outset, it was decided that the newbuild should infringe upon nature as little as possible.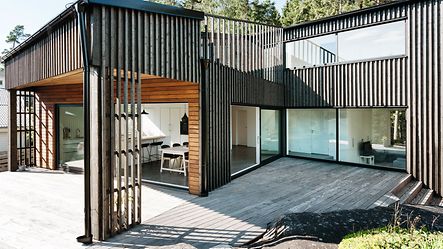 The initial planning discussions took place in a summer cottage, which the family had used for several summers in order to get to know the area. The family wanted a light and airy house that nevertheless provided a sense of safety and seclusion. It was a balancing act, which the architect mastered using a simple cubic construction. Its roof covered with plants and its façade of vertical wooden slats allow the house to blend into the trees behind. Initially concealed from visitors, the house opens up to the rear across two storeys. This creates a private outdoor space which provides a sheltered view of the lake and the evening sun. Large-format sliding units dissolve the boundaries between indoors and outdoors. The house can be opened up completely on sunny days while, in the winter, the doors remain closed and the family stays warm. Just like picture mounts, the Schüco systems frame the highlight of the villa: the undisturbed view of nature.
Project: Villa Mölnlycke
Location: Mölnlycke near Gothenburg, Sweden
Architect: Arkkas Arkitekter, Varberg, Sweden
Project management: Josefine Kastberg
Construction period: 2015-2016
Fabricator: Alufront, Sävedalen, Sweden
Schüco systems:
ASS 50 sliding doors
AWS 70.HI and AWS 70 BS HI windows and FW 50+ roof windows
ADS 70 HD door
Photos: Magnus Östh
Whether it's windows, doors or sliding doors, a newbuild or a renovation, a suburban family home or a villa on the seafront – let our wide variety of reference projects inspire your plans for your own home: