SCHÜCO ASE 60/80 SLIDING SYSTEM RANGE
NEW DIMENSIONS OF DESIGN FREEDOM
New living and lifestyle requirements demand clever and creative solutions. Unrestricted ease of access, maximum comfort and a puristic design need not be a contradiction. The new generation of Schüco ASE 60/80 sliding systems enable almost any choice of individual configuration.
SCHÜCO SLIDING SYSTEM ASE 60/80
Experience the high-quality design and perfect ease of operation in the product animation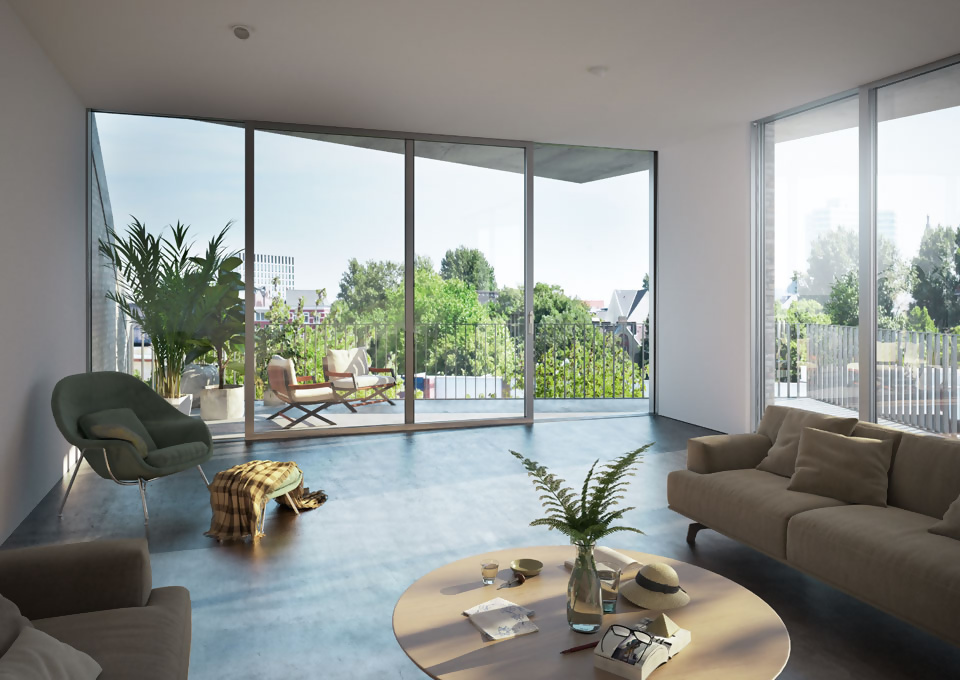 SCHÜCO ASE 60/80 SETS NEW STANDARDS
Schüco systematically and continuously optimises existing and established products. The result of this ongoing development is the new ASE 60/80 (Aluminium Sliding Element) sliding system range. Its range concept was a top priority during development, as was detailed optimisation of the fabrication process. Schüco is opening up many new dimensions with the new range – the profile system with its optimised insulation zones offers significantly improved thermal insulation properties in all basic depths, even up to passive house level (with a basic depth of 80 mm). Furthermore, all versions of the system – single, double and triple track – are based on multi-functional profiles, which allow for optimal use of identical parts. The fittings system, which is also modular, can be used as both sliding and lift-and-slide fittings. With just a few exceptions, the components are identical for both basic depths. An expanded range of sizes, slimline profile constructions and solutions for the bimetallic effect complement the pioneering thermal insulation, thereby fulfilling countless architectural design options.
DESIGN AND COMFORT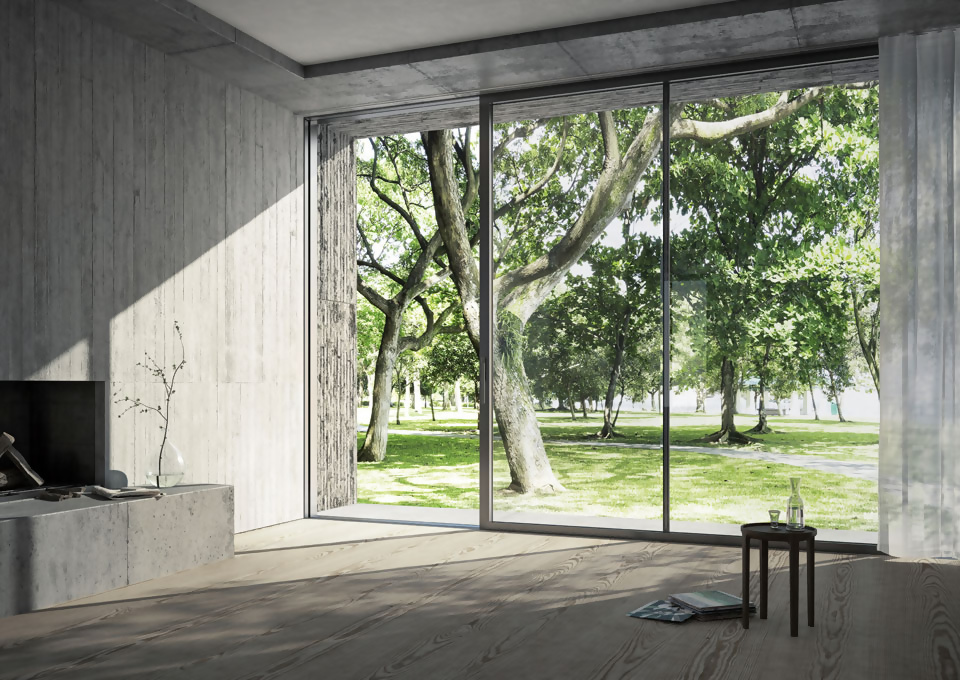 Design Line narrow interlock section
An ultra slimline interlock section of only 40 mm is also available for maximum transparency.
Ease of access in the system
With the level Design Line threshold, it is extremely simple to create an easy-access connection from inside to outside.
Reduced sightlines
The reduced face widths of the vent frames ensure an even more slender appearance.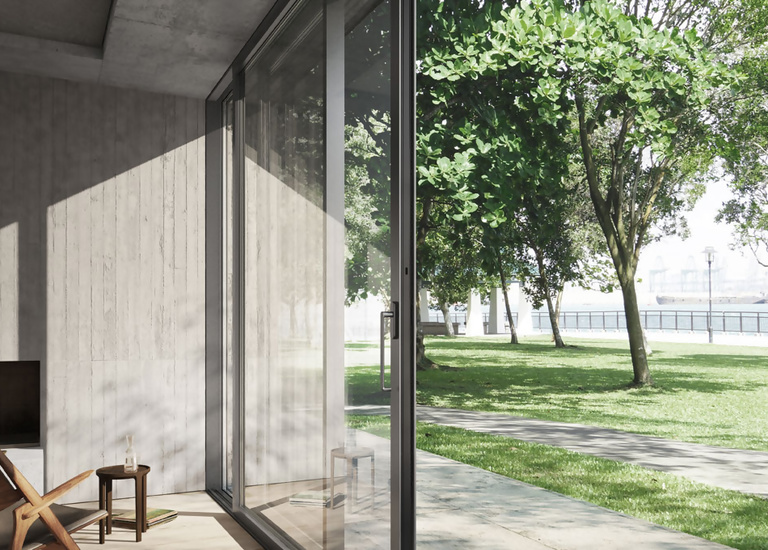 Complete fittings groove cover
The fittings components are concealed in the vent by means of a panel, achieving a clear design language.
Flexible locking options
For a particularly puristic design, the bolt pins can be fixed in the vent frame instead of the outer frame.
Schüco SmartStop/SmartClose
Integrated SmartStop and SmartClose modules slow the vents down gently. Moreover, depending on the version, the vent is drawn into the closed position and supports the closing process.
ARCHITECTURE AND TECHNOLOGY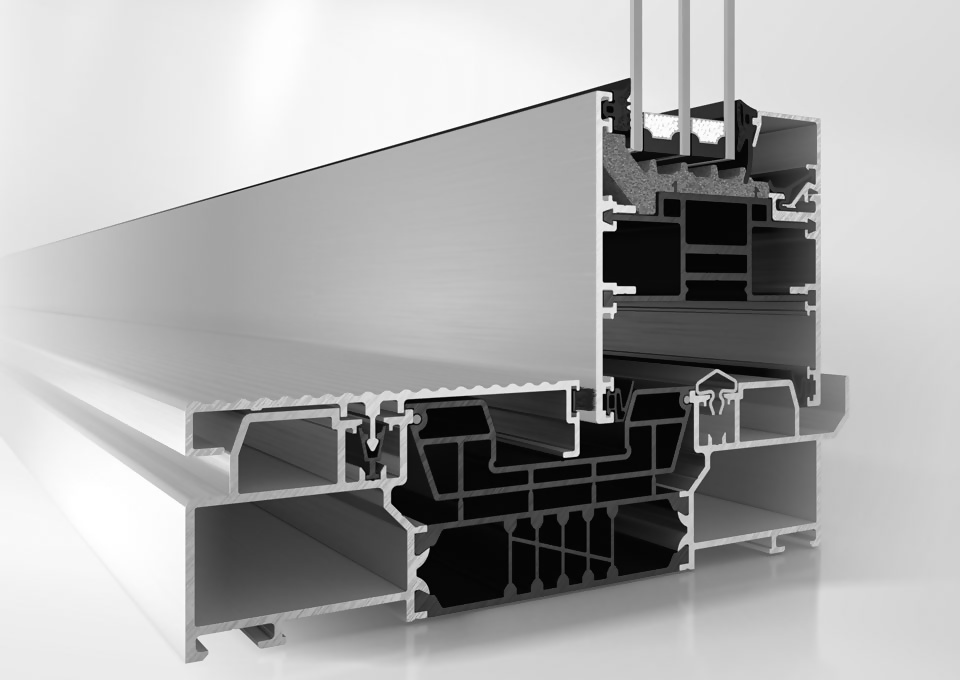 SCHÜCO ASE 80.HI SLIDING AND LIFT-AND-SLIDE SYSTEM
The Schüco ASE 80.HI sliding and lift-and-slide system combines the benefits of aluminium with pioneering thermal insulation to passive house standard for sustainable architecture. This generation allows for increased vent weights and larger formats, coupled with design and convenience.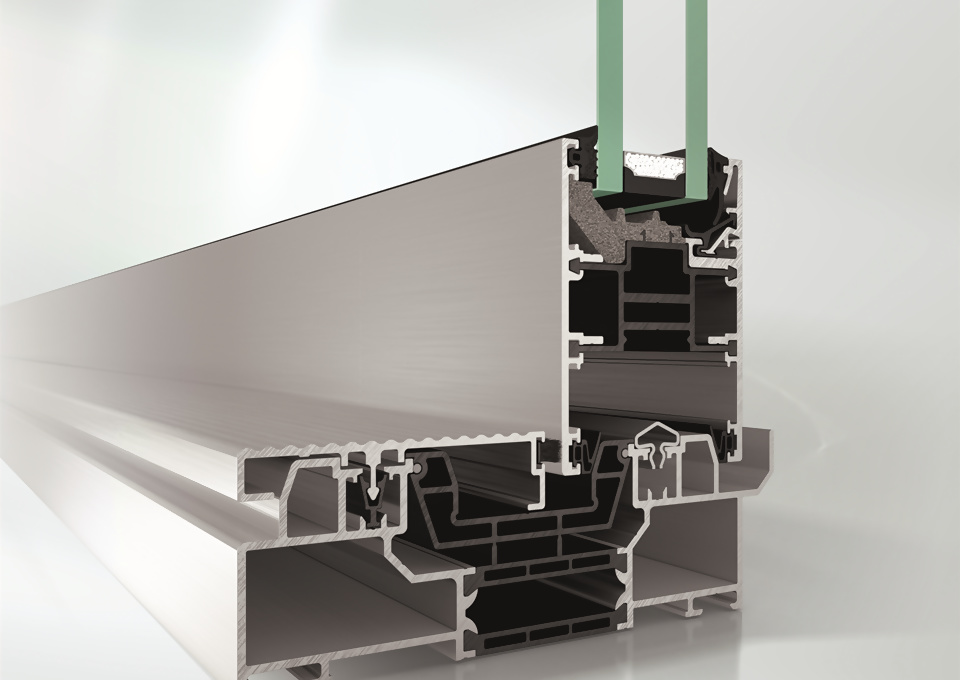 SCHÜCO ASE 60 SLIDING AND LIFT-AND-SLIDE SYSTEM
The new Schüco ASE 60 sliding and lift-and-slide system boasts excellent thermal insulation values and represents a comprehensive solution in terms of design and comfort. It allows for individual requirements to be incorporated into large-scale units.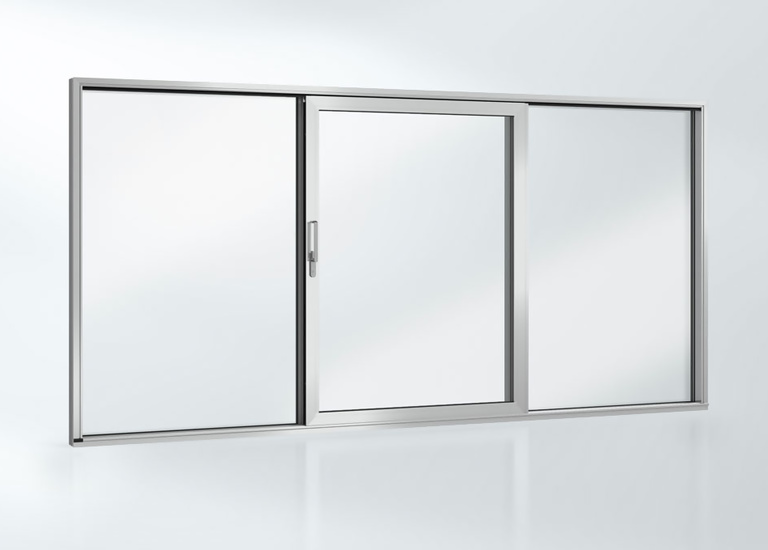 Variety of opening types
New opening types for single, double and triple-track systems provide greater design freedom.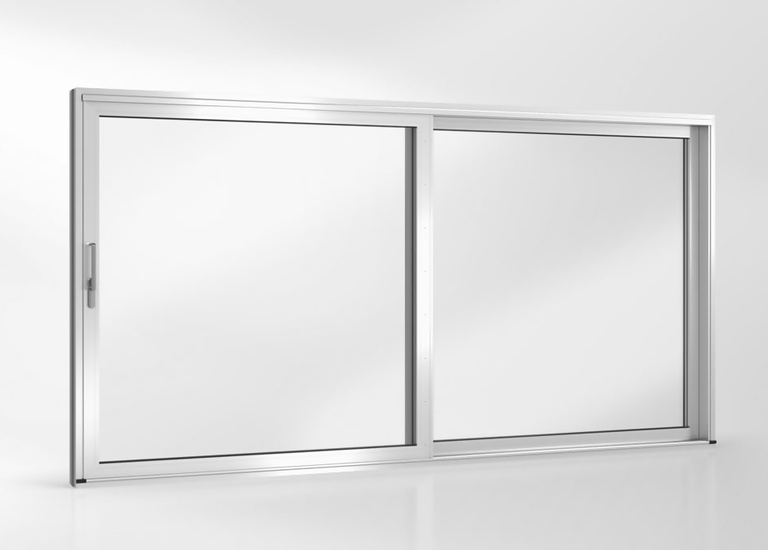 Maximum transparency
Large-scale units up to 3.5 m x 3.2 m or 3.2 m x 3.5 m create a pleasant atmosphere with living spaces that are flooded with light.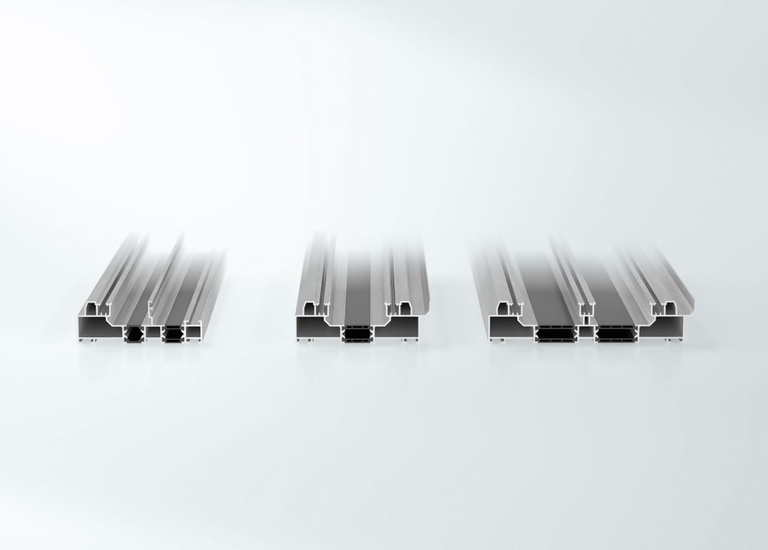 Modular profile system
All the system designs are based on profile modules with a small number of half profiles – a wide variety of unit solutions that can be modular and flexible.
Large vent weights
Three weight classes up to 600 kg will be available in future. Thanks to high-quality components, large vents can be operated easily.
High level of security
Modern fittings solutions with security components that are not visible from the outside ensure the highest level of security without compromising on aesthetic design.
More flexibility
With the new range of fittings, two different options are available with just a few system articles – sliding or lift-and-slide solutions.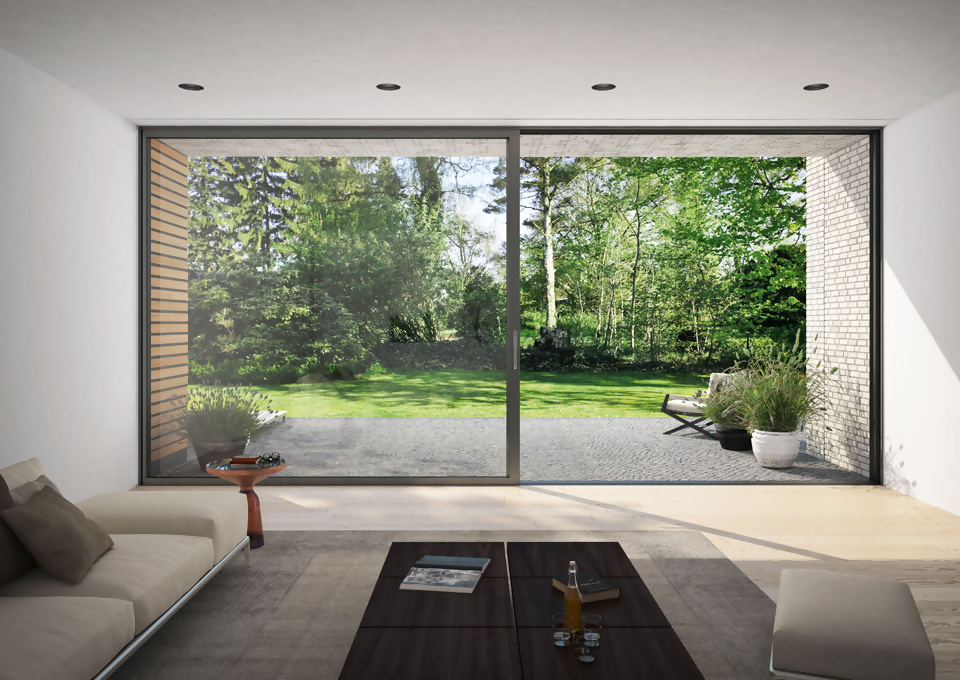 MODULAR AND SCALABLE PROFILE SYSTEM WITH OUTSTANDING THERMAL INSULATION
The modular and scalable profile system of the ASE 60/80 sliding system range provides numerous options for the various thermal insulation requirements. For high thermal insulation requirements up to passive house standard, a basic depth of 80 mm is available. Handling and fabrication have been simplified all round: different opening types can be implemented with only a few half profiles within each basic depth. Thanks to the possibility of integrating many more functions, the new sliding system range offers a high level of modularity.
MECHATRONIC OPENING
In addition to their fully integrated design, TipTronic actuator units offer a wide range of options thanks to single, double and triple-track opening types. The modular fittings system can be used as both sliding and lift-and-slide fittings. Vent units with dimensions of up to 3.5 x 3.2 metres or 3.2 x 3.5 metres and vent weights of up to 600 kg can travel distances of up to 18 metres.
The units can be controlled in various ways by means of operating switches on the vent, wall-mounted switches, the Schüco app or via a connection to the home automation system. The Schüco control components from the Schüco Building Skin Control system can be used to operate the unit even without a smartphone or switch, simply by using voice commands.
Comprehensive security functions such as integrated software protection, sensor strips and the option of using security sensors ensure reliable operation in all installation scenarios.
AWARD-WINNING
The Schüco ASE 60/80 TipTronic sliding system has been honoured with the German Design Award 2020, the Red Dot Design Award 2019 and the iF Design Award 2019. The sophisticated design language is maintained thanks to concealed fittings components in the vent and the clear visual appearance of the outer frame with flush-fitted locking points and concealed grooves, even when the system is open. The modular and scalable profile system also enables optimum adjustment of the thermal insulation up to passive house standard.
DOWNLOAD NOW!
DISCOVER THE SCHÜCO SLIDING SYSTEM ASE 60/80 IN THE CURRENT BROCHURE
DO YOU HAVE ANY QUESTIONS?
WE LOOK FORWARD TO YOUR ENQUIRY
We have specialised and reliable contact persons for any questions, problems and suggestions you may have.