Fabrication benefits
Particularly narrow profile face width of only 50mm
All current types of opening possible
Comprehensive fittings system
Window handles in a variety of shapes, choice of aluminium or stainless steel
Optional burglar resistance
Flexible application possibilities through system compatibility
Technical information
System basic depth50 mm
Min. face width82 mm
Uf value of frame (≥)4.9 W/(m²·K)
Max. glass/panel thickness35 mm
Air permeabilityClass 4
WatertightnessClass 9A
Burglar resistanceUp to RC3
Wind load resistanceClass C3
CE markingYes
Min.-max. glass/panel thickness5…35 mm
Area of applicationInternal use, Residential projects, Residential projects, Commercial projects, Window
Concealed fittings systemYes
Suitable for safety barrier loadingYes
CertificatesEPD
Documentation
Specification texts
Economy 50 windows
WK1 / WK2 / WK3 (make a selection) in accordance with DIN EN 1627 – test certificate no. 211 17 836
Steel profile system for windows with 50 mm basic depth, for indoor components and components without thermal insulation requirements.
In the case of window units with burglar-resistant requirements, the fabrication and assembly guidelines from the system provider must be observed.
Design features:
All corner and T-joints are securely welded together.
Glass and/or infills of 4 mm to 35 mm can be used.
Face-fitted vent frame on the room side rebated by approx. 8.5 mm from the frame edge.
The weatherstrip system consists of a continuous centre weatherstrip in the window rebate area, plus a rebate weatherstrip on the inside. The inner rebate weatherstrip is inserted continuously and is not interrupted by recesses for hinges and/or corner pivots. The centre weatherstrip is formed by a plastic supplementary profile with a vulcanised weatherstrip lip, which is inserted in the frame continuously, ensuring controlled drainage and pressure equalisation of the vent rebate.
A glazing bead is used on one side of the glazing.
Glazing bead: ???
The infill is sealed in using double-sided tape and sealing is by means of permanently elastic sealing compound.
Profile depths:
Outer frame, transom, mullion 50 mm
Vent frame (window) 58.5 mm
CAD data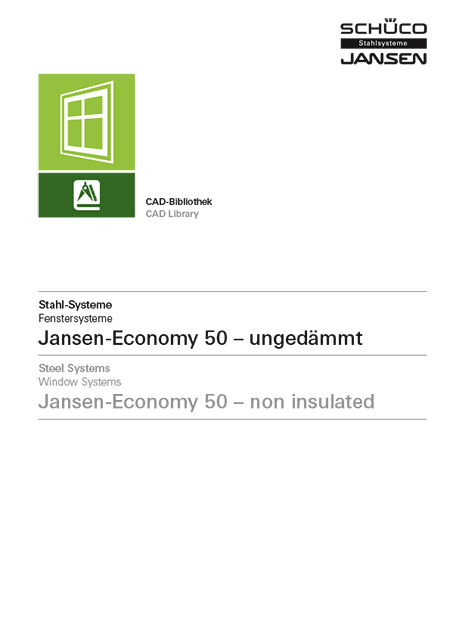 Jansen-Economy 50 windows – non insulated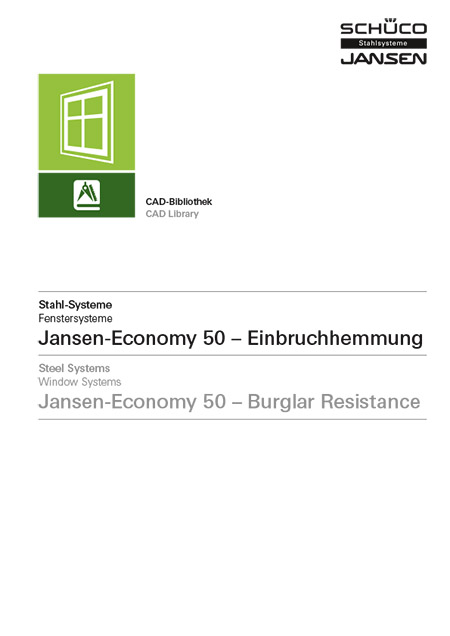 Jansen-Economy 50 windows – Burglar Resistance
Brochures