Balustrades – individual and stylish
The face of a balcony is defined not only by supports and floor panels, but also by the railings.
For these stylish units, Schüco offers you a wide range of individual design options through a combination of different infill units with various balustrade systems.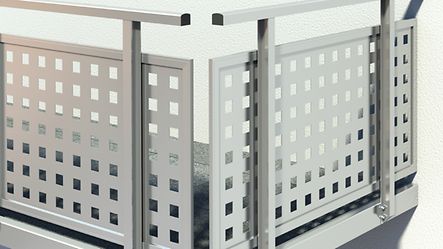 Balustrade system G 52 R
The modern G 52 R balustrade system for contemporary façades can be used for a wide variety of applications. The attractive appearance of the system is determined by the wide variety of fixing options and infill types.
Posts and handrails to match the round tube and square supports of Schüco balconies
Elegant frame profiles as a surround for the balustrade infill panels
Can be designed with two handrail options, or four-sided or two-sided support
Various infill units such as glass are possible
Integration of side screening possible
Balustrade system G 52 S
The Schüco G 52 S system offers a balustrade with elements made of aluminium in the new steel design. It therefore combines the benefits of aluminium such as low weight, colour and weight variants with the modern appearance of steel. With the G 52 S, which is available in many versions and RAL coatings, balustrade solutions are possible that meet modern architectural requirements and also conform to structural specifications in the Eurocode.
Can be used on all Schüco balconies, concrete, steel and aluminium constructions
Fixed as forward-mounted installation
Hand rails made from aluminium and stainless steel
Design options through 2-sided and 4-sided frame bracket or frameless appearance through direct screw connection
Different infill units possible such as glass, perforated sheets or compact panels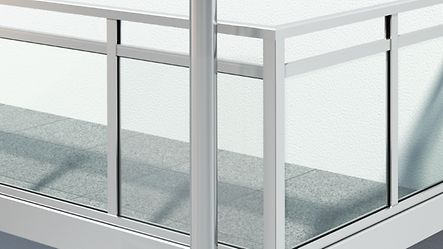 Balustrade system G 48
The G 48 balustrade system is distinguished by its clean, rectangular lines and the shapes of the handrail, base strut and posts. The balustrade can be installed on all balcony edge profiles as well as reinforced concrete balcony platforms. The base strut forms a watertight seal at the bottom with the frame profile. With assistance from the use of dividing bars and different infill units, the balustrade system offers numerous design options that allow you to lend any balustrade an individual design.
Complements the style of the balcony supports with a square, rounded or steel look
Problem-free assembly as add-on construction onto the edge profile or the steel-reinforced concrete floor panel
Easy attachment to the support using special handrail support
Compatible with the Schüco stacked balconies