Balcony roofs – individual design options
Keeping you dry throughout the year – Schüco balcony roofs can be universally retrofitted.
Balcony roofs extend the amount of use that can be made of balconies. When protected from wind and rain, balconies become an extended living room.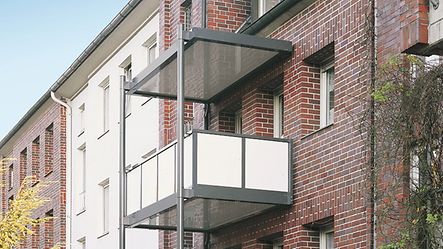 Schüco roofs offer you flexible design freedom in terms of form, design and size. The systems allows for the construction of saddle roofs, hipped roofs, corner roofs or mono-pitch roofs. The size is tailored perfectly to your balcony. Different glass thicknesses ensure that you feel safe even in bad weather.
Schüco balconies offer controlled drainage with flexible positioning of drainage supports and downpipes. This prevents humidity from penetrating your building structure. The roof constructions are simply hooked in by means of simple assembly.