Extremely comfortable living and outstanding views
Who wouldn't want to live in a house with beautiful views and bright living spaces that are flooded with light? With Schüco PVC-U sliding doors, you can let the sun into your home and enjoy an extremely comfortable living space. New spaces are opened up with just a few quick hand movements. Even large units can be opened and closed easily in no time at all, providing a flowing, barrier-free transition from inside to outside.
Countless possibilities for bringing your ideas to life
It is available in many different designs, colours and with various security and comfort features, regardless of whether it is for a newbuild or existing property. The internal values are also impressive. The special multi-chamber frame constructions made from high-quality PVC-U with internal steel core ensure maximum stability. In conjunction with functional glass, Schüco PVC-U sliding doors provide outstanding thermal insulation and effective sound reduction. This saves on heating costs and allows you to enjoy your peace and quiet.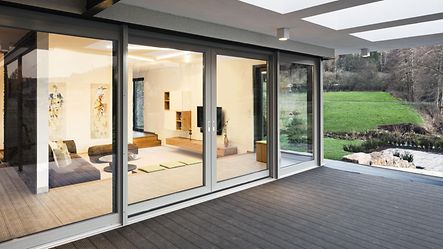 ENERGY
Outstanding energy balance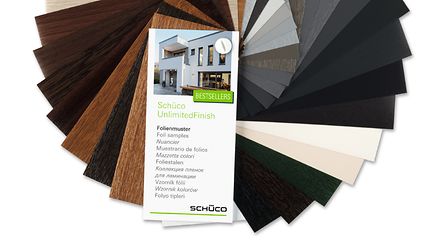 DESIGN
Individual design options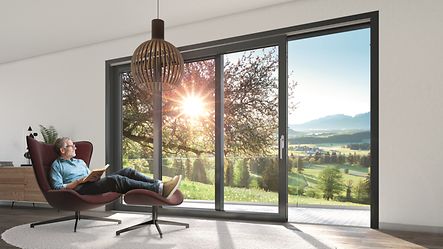 COMFORT
Weather tightness and sound reduction
Rooms flooded with light give a new feel to your home
PVC-U sliding doors from Schüco create the perfect link between inside and outside, as well as providing great views and stylish design touches.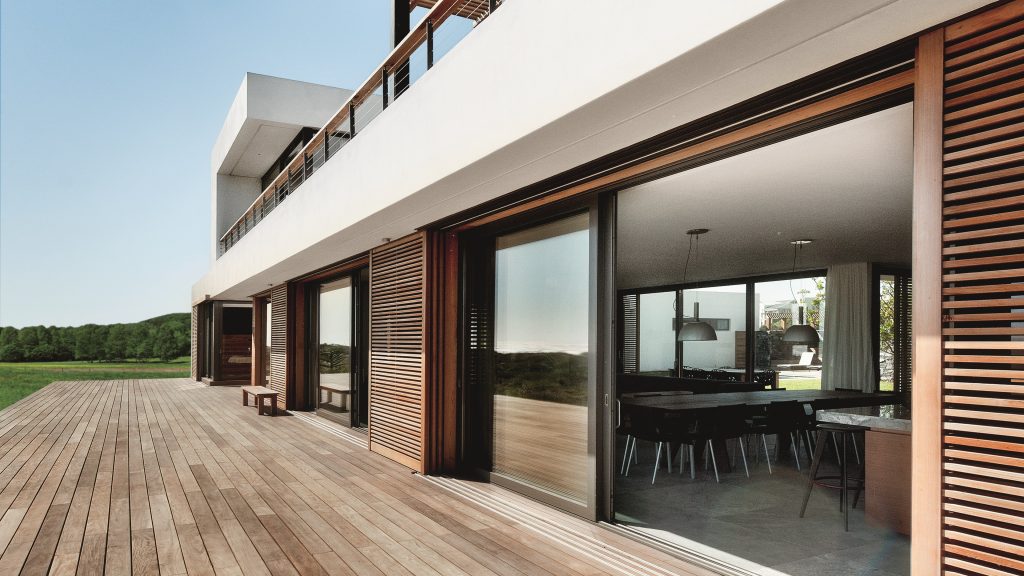 Schüco ThermoSlide – highly thermally insulated PVC-U lift-and-slide door
Schüco ThermoSlide provides the perfect link between indoors and outdoors. In just a few simple steps, your living space can be extended and individual ideas for your home can be turned into reality. Thanks to innovative technology, the Schüco ThermoSlide lift-and-slide door achieves outstanding thermal insulation values to passive house level. This means comfort in your home by means of a constant, pleasant room climate; it also saves valuable energy and reduces high costs.
Optimum thermal insulation with a Uf value of 1.1 W/(m2K)
Increased basic depth of 82 mm and a modern locking system for increased burglar resistance to RC 2
3 sealing levels for maximum protection against wind and weather
Easy-access design
A wide range of colours and designs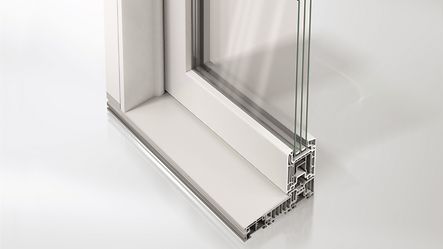 Schüco LivIngSlide – for extremely comfortable living and outstanding views
With Schüco LivIngSlide, you can let the sun into your home and enjoy an extremely comfortable living space. New spaces are opened up with just a few quick hand movements. The conservatory becomes one with the garden, while the balcony and patio extend the living area. Discover the numerous possibilities opened up to you by lift-and-slide doors from the Schüco LivIng series to bring your architectural ideas to life – be it in a newbuild or an existing property.
Sophisticated designs ensure maximum energy efficiency with Uf values of 1.3 W/(m2K)
Increase value through increased burglar resistance up to RC2
Optimum sound reduction for peaceful living
Very easy to use – even with large units
Durable material with minimal care and maintenance required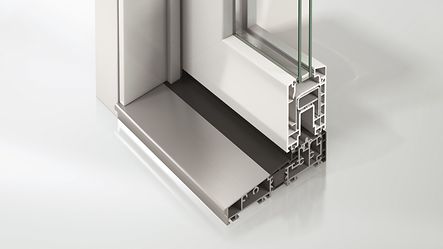 Schüco EasySlide – PVC-U lift-and-slide door for patios, balconies and conservatories
Elegant, light and airy glass architecture – Schüco EasySlide opens up new perspectives on the design of your living space. The lift-and-slide door opens effortlessly and almost silently to provide access to the terrace, balcony or garden. The threshold of the lift-and-slide door is designed so that it creates a thermal break between the outside and inside. Draughty floor areas in front of the door unit are therefore prevented effectively. An innovative gasket system also ensures maximum resistance to wind and rain, as well as the best possible sound reduction.
Excellent thermal insulation with a Uf value of 1.5 W/(m2K)
Maximum demands in terms of burglar resistance to RC2
Almost silent and extremely easy to operate
Unimpeded, easy-access transition to the outdoors
Easy-access design