Fabrication benefits
Maximum use of identical parts within the system and within the Schüco AWS modular system
Schüco AvanTec SimplySmart fitting ensures efficient fabrication: flexible, simple and intuitive
Vent parts self-positioning and installed without tools
Fittings installation without locking bar recess on the vent facilitates faster fabrication
Symmetrical cavity-fitted gearbox can be used on the right and left-hand side; simplified cutting of the locking bar and reduced storage requirements
Technical information
System basic depth50 mm
Min. face width91 mm
Uf value of frame (≥)2.5 W/(m²·K)
Max. glass/panel thickness40 mm
Max. vent width1700 mm
Max. vent height2500 mm
Max. sound reduction Rwp43 dB(A)
Air permeabilityClass 4
WatertightnessClass 9A
Burglar resistanceUp to RC1
Wind load resistanceClass C5 / B5
CE markingYes
Total basic depth60 mm
Width of vent frame60 mm
Max. vent weight250 kg
Min.-max. vent height540…2500 mm
Min.-max. vent width470…1700 mm
Outer frame face width51 mm
Vent frame face width40 mm
Max. face width of mullion250 mm
Min.-max. face width of mullion76…250 mm
Max. face width of meeting stile163 mm
Min.-max. face width of meeting stile148…163 mm
Min.-max. glass/panel thickness4…40 mm
Barrier-free (≤) 20 mmYes
Zero-level thresholdNo
Area of applicationExternal use, Residential projects, Residential projects, Commercial projects
Shear bondYes
Concealed fittings systemYes
Surface finishesPowder, Anodised, Paint
Glass compositionTriple glazing
ToplightYes
Operating forcesClass 1
Barrier-free operating forces in accordance with DIN 18040Yes
TipTronicYes
Opening type: manual, outward-openingSide-hung, Double-vent side-hung / side-hung, Projected top-hung, Projected side-hung, Horizontal pivot, Vertical pivot
Opening type: manual, inward-openingTurn/tilt, Side-hung, Bottom-hung, Double-vent turn/tilt / side-hung, Double-vent side-hung / side-hung, Tilt/slide, Toplight, Horizontal pivot, Vertical pivot, Tilt-before-turn
Opening angle180 °
Mechanical strengthClass 4
Proof of durabilityClass 3
Corrosion protection class for fittingsClass 5
Uw value of window (≥)1.3 W/(m²·K)
Ug value of glass (≤)0.3 W/(m²·K)
Drainage levels3
Integrated sun shadingYes
Security glazingYes
Suitable for safety barrier loadingYes
Certificatescradle2cradle SILVER
Colour-independentYes
Specification texts
Schüco AWS 50, thermally insulated aluminium window system
With 50 mm basic depth.
Design features:
Face-fitted vent frame on the room side rebated by 10 mm from the frame edge, flush-fitted on the outside.
The system must be fitted with square glazing beads.
The glazing beads are installed with plastic clips to compensate tolerances.
Profile depths:
Outer frame, mullion, transom 50 mm
Leaf frame 60 mm
Vent frame, Top Swing 75 mm
Profile face widths:
Outer frame, bottom 94 mm
Outer frame, side and top 79 mm
Mullion 94 mm
Transom 94 mm
Vent frame (window) 41 mm
Vent frame (window door) 61 mm
Double-vent profile (window) 52 mm
CAD data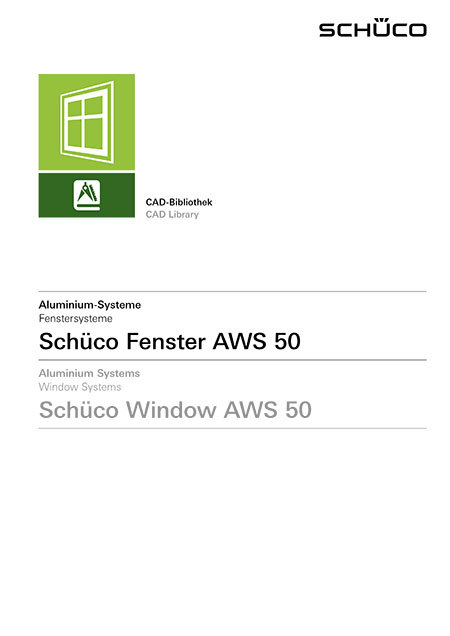 Planning principles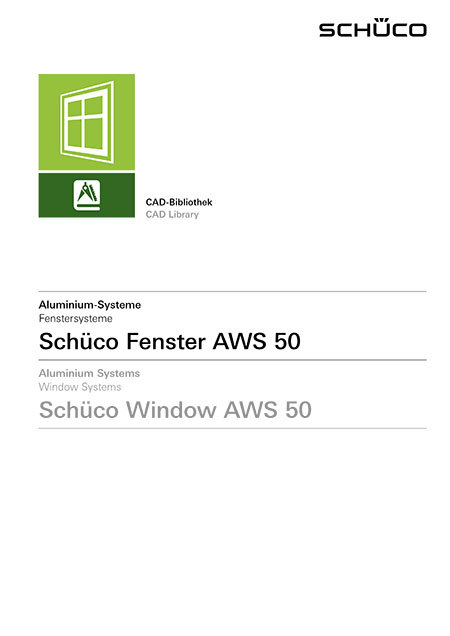 System drawings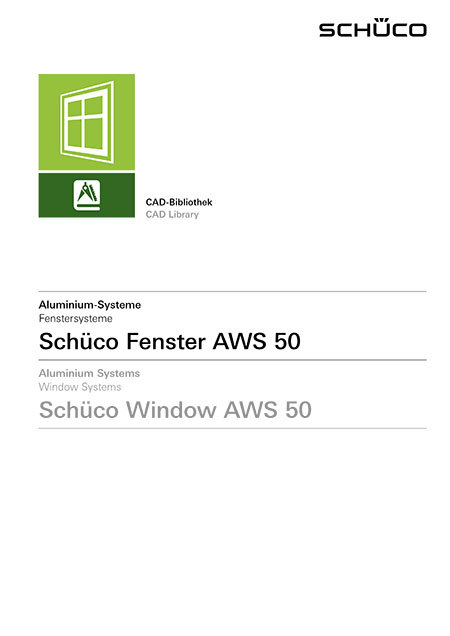 Rule details
Test documents
Document type
Test type
Result
Classification
Document no. / Download
Prüfbericht
Luftdurchlässigkeit
Schlagregendichtheit
Windwiderstandsfähigkeit
Q100 = 0,33
1200
600
Klasse 3
Klasse E 1200
Klasse C3 / B3
View onlineDownload (pdf, 201.7 KB)
Prüfzeugnis
Luftdurchlässigkeit
Schlagregendichtheit
Windwiderstandsfähigkeit
Bedienungskraft
Vertikallast
Widerstand gegen Stat. Verw.
Q100(L)=0.53 ; Q100(F)=1.40
300
3000

800
350

Klasse 4
Klasse 7A
Klasse C5/B5
Klasse 1
Klasse 4
Klasse 4
View onlineDownload (pdf, 231.8 KB)
Prüfzeugnis
Luftdurchlässigkeit
Schlagregendichtheit
Windwiderstandsfähigkeit
Bedienungskraft
Vertikallast
Widerstand gegen Stat. Verw.
Q100(L)=0.53 ; Q100(F)=1.40
300
3000

800
350

Klasse 4
Klasse 7A
Klasse C5/B5
Klasse 1
Klasse 4
Klasse 4
View onlineDownload (pdf, 232.4 KB)
Prüfzeugnis
Luftdurchlässigkeit
Schlagregendichtheit
Windwiderstandsfähigkeit
Bedienungskraft
Vertikallast
Verbiegen/Verwinden
Q100(L)=0,53 Q100(F)=1,39
600
P3 = 3000
4,7
350
800
Klasse 4
Klasse 9A
C5 / B5
Klasse 1
Klasse 4
Klasse 4
View onlineDownload (pdf, 228.3 KB)
Prüfzeugnis
Luftdurchlässigkeit
Schlagregendichtheit
Windwiderstandsfähigkeit
Bedienungskraft
Vertikallast
Verbiegen/Verwinden
Q100(L)=0,53 Q100(F)=1,39
600
P3 = 3000
4,7
350
800
Klasse 4
Klasse 9A
C5 / B5
Klasse 1
Klasse 4
Klasse 4
View onlineDownload (pdf, 214.5 KB)
Prüfzeugnis
Luftdurchlässigkeit
Schlagregendichtheit
Windwiderstandsfähigkeit
Q100 = 0,33
1200
600
Klasse 3
Klasse E 1200
Klasse C3 / B3
View onlineDownload (pdf, 196.0 KB)
Prüfzeugnis
Schallmessung
43
Klasse 4 (alte Norm)
View onlineDownload (pdf, 408.6 KB)
Prüfzeugnis
Schallmessung
43
Klasse 4 (alte Norm)
View onlineDownload (pdf, 407.3 KB)
Prüfzeugnis
Schallmessung
43
Klasse 4 (alte Norm)
View onlineDownload (pdf, 408.6 KB)
Prüfzeugnis
Schallmessung
43
Klasse 4 (alte Norm)
View onlineDownload (pdf, 407.3 KB)
Brochures